This was originally published on the silveroak bookstore website in 2000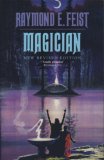 'The storm had broken.' It was a prophetic first line, for this was the debut novel that took the fantasy world by storm, launching Raymond E. Feist's career. Magician (which has now sold upwards of two million copies and has been translated into more than a dozen languages) was quickly and successfully followed by Silverthorn and A Darkness at Sethanon, making The Riftwar Saga into a bestselling trilogy.
That was almost twenty years and seventeen books ago now, and Raymond Feist has become one of fantasy's big names. Yet it wasn't the career he had planned for himself.
Some of us struggle to write every day, sigh through the continuous cycle of submissions and refusals and publish endless shorts in the fantasy press.
This guy didn't even bother trying until he was in his thirties.
He seems to take it in his stride.
"I didnt start writing til I was 31. Thats when I got the itch…. I was always going to be a Health and Human Services Administrator, with writer as a "paying hobby" but as Murphy wills it (and we all know Murphy runs the universe) things worked out a little different than I had expected. As John Lennon observed, "Life is what happens while you're making other plans."
Grinding your teeth yet?
Feist's early influences were boys adventure books, full of swashbuckle and derring-do. Later, in college, the Lord of the Rings craze swept the fantasy genre into the public eye and he soon discovered R.E. Howard, A. Merrit and his main influence, Fritz Leiber, creator of the heroic-fantasy duo of Fafhrd and the Gray Mouser.
His career was sparked off by a fantasy role playing game he would play with his college friends. Set in a virtual world named 'Midkemia', the game soon led Feist to dabble with a short story set there, and when he subsequently lost his job the story was soon finished. The rest is history.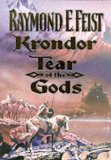 Twenty years on and he's still going strong. There are 13 books based in Midkemia now, and more in the works. The latest one, Krondor: Tear of the Gods, was released in November 2000. So after writing professionally for so long has it become more difficult to come by new inspiration?
"I look at my work as historical novels about a place that doesn't exist. Midkemia is a virtual world, however. I notice no one ever asks a mystery writer if doing more stories in Los Angeles is a problem. John D. MacDonald wrote something like 20 Travis McGee books and the last was the best of them all, in my opinion."
Perhaps what has helped to keep things fresh is the character-driven attitude to writing which he has. Starting with an almost fully-fledged world may have helped this emphasis along, but in the end his continuing commitment to developing characters with whom the reader can identify has paid off.
Actively building character behavior models and thinking through their feelings in different situations explains how Feist can make his stories such an emotional experience for readers. We can feel proud and amazed at Pug's magic, and worried about Tomas in that armor because we haven't just seen where these kids came from, we've felt what it is like to be who they are.
Feist, like a proud father, has no favorites among his characters.
"All my major characters are interesting to me. But it's the process of creating them that makes them so. I look at characters who do things I would never consider and ask, "Why would anyone do such a damnfool thing?" The answers to that repeated question is what makes them interesting. I think it's clear that Jimmy the Hand/Squire James/Duke James is just about the most popular character in the series, followed closely by Pug, Arutha, and Tomas. It's ironic, as he was supposed to be a minor character in Magician and show up again for a bit part in Silverthorn, but see the John Lennon quote above."
Not that any fondness for characters would stop him putting them in mortal danger of course. Oh no. In fact he admits to consciously taking a darker tone of late.
"Yes. The stakes keep getting higher. Pug now knows about the Nameless One and realizes that he personally can't confront him, but can only aid the cause of those who seek to battle his minions. Very dark reality for someone who knows what's going on."
We did notice, however, that Midkemia, like so many genre worlds, has a lack of kick-ass chicks. We were just beginning to really dig the refreshing change of Briana, who was decisive, intelligent and a warrior to boot, but before you could say 'Lims-Kragma' she had caught a dose of 'Duchess' syndrome and all but dissappeared. Miranda has these great powers, but we can't shake the notion she only came along as a character development aid for Pug/Calis/Macros.
Then there is Mara of the Acoma, from the Empire trilogy.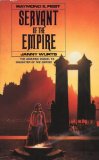 Now she is a strong woman, we like her a lot. She starts off small and insecure, and before you know it *bamf* she's got power and influence over a whole nation. Of course, it could be telling that the series was co-authored with a woman (Janny Wurts), but hey, maybe we'll give the benefit of the doubt.
We do want to see more strong women though — and eh, possibly also more glistening, muscular, shirtless guys in lengthy, heroic sword fights against fearsome evil opponents. *cough*
It's no secret that the heroic-fantasy genre has an inherant problem with the modern striving for political correctness however, and Feist is realistic about the difficulties. We asked if he wrote with more modern sensibilities in mind.
"To a point. You can't alienate the reader. I was forced at the start to deal with a clearly male dominated culture in the Kingdom and another in Kelewan. Mara of the Acoma allowed us (Janny and I) to do stories that actually took advantage of the sexism inherent in the Tsurani culture to have a field day with her character. It's still a sexist culture, but it doesn't have to be a sexist book."
We also wondered if his Conanesque/Boys Adventure influences affect the way he writes now, or if he had ever felt the urge to try his hand at writing about Robert E. Howard's famous 'mighty-thewed' warrior.
"Not really. I'm writing my "Conan" stuff now. Amateurs and fans often want to write in someone else's world. Pros usually don't have the temptation. Though I would like to write that "last" Travis McGee novel if his estate would ever let me. "Black Borders for McGee" was a publishing joke. MacDonald always threatened to turn in the "last" book under that title (they all have a color in the title) and what the publisher didn't get was they were all first person narratives. So how's a guy going to write about his own death? OK, so Billie Wilder did it in Sunset Boulevard but how often can you get away with that literary vanity?"
He does think there is a lot of quality out there in terms of contemporary writers too.
"There are sensational writers out there all over the place, like Robert Crais, Caleb Carr, W.P. Kinsella, Jonathan Carrol, Tim Powers, J.K. Rowlings, Janny Wurts, and the list just goes on. I'm forgetting a dozen for each I've named here."
As far as taking time off from his own work goes, it seems the concept is a little foreign to Feist. Are there any signs of slowing down at all?
"Actually the opposite. Starting in 2002, I expect to be averaging two books a year for some time to come."
Several times in the past Feist has also mentioned that he'd like to write a science fiction novel. We wonder if he'll ever get the time?
"Not for a couple of years, but I think after I finish the third Legends book with S. M. Stirling, I may start work on one "on the side," and just turn in a finished book to my agent whenever I get it done."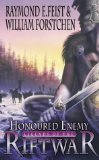 Honoured Enemy, the first book in the brand new Legends of the Riftwar series, is due for release on 2nd July 2001. He gives us a plot outline.
"A Kingdom patrol, Hartraft's Marauders, encouters a Tsurani patrol during the ninth year of the Riftwar. As they are about to engage one another, they're overrun by a migrating army of moredhel (Dark Elves). The two bitter foes must band together to survive and fight their way across hundreds of miles of enemy territory to reach a safe haven, where they can resume their conflict."
The Legends of the Riftwar series will be comprised of stories that take place during the twelve years of the Riftwar, but about actions in other locations than those in Magician.
Along with eventually getting back to the 'Riftwar Legacy' series future projects also include a 'Riftwar' murder mystery with Joel Rosenberg and a 'Jimmy The Hand' novel with S.M. Stirling. A new series, Conclave of Shadows, is also on the way. The first title Talon of the Silver Hawk, is planned for release on the 20th anniversary of the original publication of Magician.