This article was first published 03/Mar/17 by SyncNI
Believe it or not it's possible to bypass the ticket queue, ignore the traffic jams and wear your pyjamas to the next Augmenting Reality meetup event in London.
It can be frustrating to miss out on all the mainland tech events when you're stuck over here in Belfast. The best and brightest gather in the capital to tackle the new issues, learn about the latest trends and network their way to greatness while we're stuck over here out-of-sight, and perhaps even out-of-mind.
Should you somehow find yourself lucky enough to be in London with work, and manage to get your grubby hands on an elusive event ticket you've still got to contend with weather, navigate public transport, juggle when to eat and what to wear, and then get a seat where you can see and hear enough to be useful without arriving so early that a toilet break becomes mission impossible once the room fills up.
All that, however, is set to change as a result of meetup groups like Augmenting Reality teaming up with companies like AltspaceVR to stream their London events free to the world. Don your finest pyjamas, prepare a nice cup of tea and listen contentedly as it blows a gale outside, knowing you can have a front row armchair and ask questions right from your living room.
I've been desperate to get to some of the cutting edge Virtual Reality tech meetups going on in London recently, so when I saw for the first time Augmenting Reality was going to live stream in VR I set up with the HTC Vive last week to try it out. You can download and launch AltspaceVR through VivePort, HTC's own content portal for its Vive hardware. Setting up an AltspaceVR user account and choosing an avatar was easy – a simple and intuitive interface as soon as you log on requires only an email address and a password, but you can operate as a guest if you prefer. AltspaceVR also proactively provide a human concierge in the 'lobby' room who will talk you through any problems you are having, and your mic and headphones make this a breeze.
After fifteen minutes zipping around chatting and getting used to the place I joined the event room. Augmenting Reality's chosen meeting room was an airy place with big glass windows looking out over snow clad mountains – you could just stand at the window and look out over the vista at the gentle snow fall, be at peace and feel glad you came. VR still excites me, even in these small ways!
The event setup itself was fairly simple, but effective. A stage at one end featured a large screen, which was live streaming their event video feed from YouTube. There were around seven other avatars in the room, including one person from the event staff who was keeping an eye on things and taking our questions.
There were a couple of teething problems with sound, but they were quickly fixed and more to do with the physical mics not working well than with actual VR issues. The main issue I personally faced was remembering to mute my mic when my partner came into the living room. I soon realised I needed a chair, which is not something I would normally have in my VR space but that was easily added. Nice tea and a biscuit. Warm room. Listen to the gale outside and feel smug. Learn new things. Enjoy.
And I did!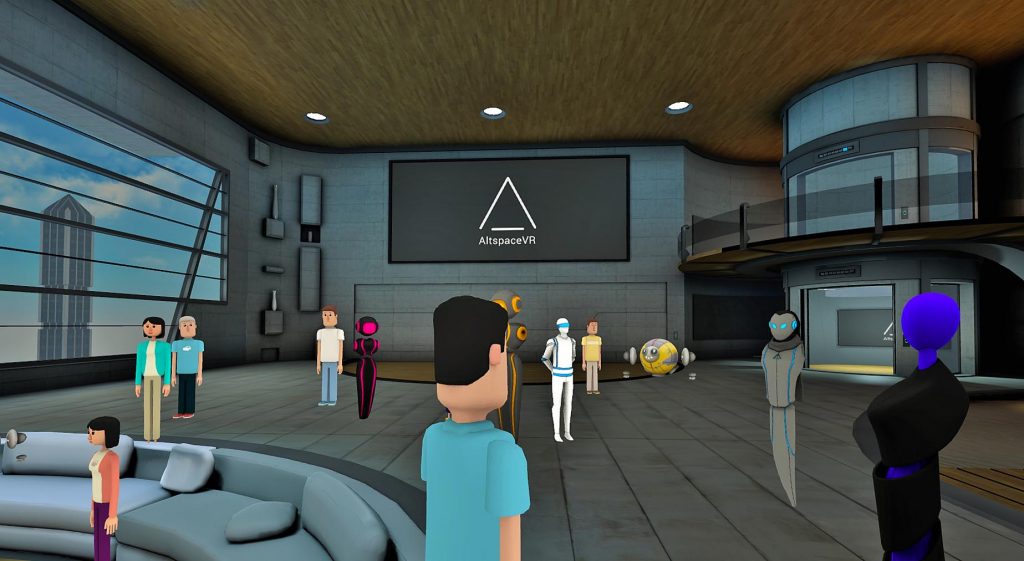 My partner asked if it was much different than logging into a webinar, and I have to say wholeheartedly yes. I think I would have been bored in a webinar; this was much more engaging. It's easy to ignore browser screens, drift off, do other stuff, multi-task a bit. You don't get that in VR so much because it feels like you're there in the room, and other people can see you.
One drawback is the post-event networking is somewhat limited compared to if you were in the physical space. You can still chat with the people you are in the VR room with, though in practice some of them log out when (or even before) the event finishes. Let's face it, though, without the VR stream I would not have been there at all, so it's not much of a shortcoming!
It's also worth noting that as a woman, AltspaceVR is a great equaliser. My avatar makes me just another spod; I don't wonder about being taken seriously because I'm wearing that skirt, or the guy has decided he's more interested in/disgusted by my blouse. And while that might sound trivial, unfortunately sexism is alive and well in 2017 in the tech industry so let's hope for the best but not pretend like its gone away, okay? Having a restricted range of avatars is a great equaliser, so I can just make my point and people just listen like I'm a real person. The weirdos are not distracted by other factors, and I'm not distracted by the weirdos. It's great. It felt safe, and easy.
All-in-all it was an enjoyable event experience in a bunch of different ways.
The AltspaceVR Vive experience compared favourably to others; teleport travel was smooth, sign-up was intuitive, resolution was high without performance suffering, player options were reasonable without being overwhelming. The concierge was friendly and helpful.
The Augmented Reality meetup event was enjoyable; there were a few sound issues but they were fixed, a sign telling VR attendees to turn off their mics unless they had a comment would maybe be a good idea but most people twigged to that eventually.
AltspaceVR is free, and works with Samsung Gear, HTC Vive, Oculus Rift and Google Daydream VR headsets. You can set up various pre-made styles of meeting rooms ad-hoc or in advance, both for private and public events, and stream live video to them or display images. They are a great way to expand access to your event both to people from further afield, and those unable to physically attend. They are also used to display art, have audio concerts and readings, play games and activities, and work collaboratively.
Other meeting room systems are also available; VRChat, for example, allows you to make your own completely customised rooms and avatars if you can code, and that is a great way to extend your company brand or even faithfully replicate your global headquarters, though it may also naturally bring its own legal issues!
Alternatively, if you're looking for a customisable virtual office to work in by yourself without sharing you might enjoy LightVR.
You can download AltspaceVR from www.altvr.com