Make no mistake, this post is pretty much a big moan, but it's here for me to remind myself in later years that I faced massive odds and came out the other end, so read it at your own risk! I am hoping I will look back from a cushy future life and laugh, and always remain grateful.
---
It's early 2017, I am turning 40 this year, and so in an attempt to start the second half of my life in a better state than the first half I have enrolled on a Masters to get the degree I sacrificed earlier in life. This is my mid-life crisis. I am taking back control of my borders! 😀

It's late-summer 2017 and I haven't quite made the funding for my Masters that I hoped, as the kitten game had a major environment texture deleted at the 11th-hour-tail-end of a dev phase. Roll-back isn't possible either, as it genuinely did need removed, just apparently nobody realised until then.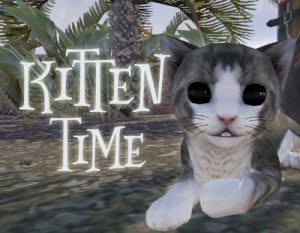 Unfortunately, I have no graphics ability of my own or additional money to pay for more artist time to replace it, so have shelved the project, and the year has started instead with a mahoosive loan which goes into repayment as soon as the course finishes*. Anxiety City.
The only way to deal is to keep the business going and work throughout the full-time course, which most people assure me is madness. I mean, they are right, but there is little other choice.

Certainly in the run-up to Christmas it was pretty much a nightmare, but thankfully my family are bricks**, and helped lots.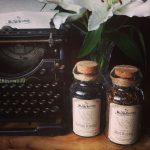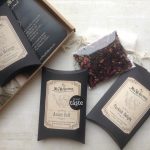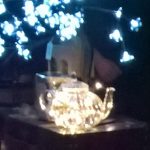 Planning is underway for the NI Game Awards already, and the venue is booked. Hope to delegate as much as possible, but need to get people to turn up to talk over what's needed at a couple of planning meetings.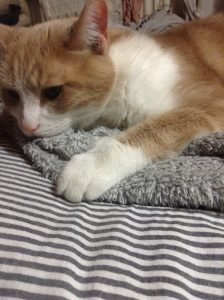 Throw in a bit of herding cats organising the Game Dev Christmas dinner… and the cat is also getting much sicker… now he's taking 11 tablets and 2 different injections a day. He's breaking my heart with how ill he is, but we're just trying to keep the pain away and the fluid off his lungs somehow. He has asthma, arthritis and heart failure. He's so thin. We are at the vet about twice a month now. He still follows me everywhere for company, though <3
Unfortunately, Aims has also started uni in Glasgow and is not having a good time at all, so is on the phone a lot feeling really quite unhappy. I don't want to say too much here as I don't know how she'll feel about it.
Malware has been very stressful due to technical issues in sharing the VMs we need. Have been working hours and hours extra every night to compensate, so regular work is piling up. Can't keep this up – massive, unnecessary stress! Get it together QUB.
Game Awards volunteer turnout is really low. Not enough to run properly, so will end up doing all video work and ticketing and bookings myself, and run a business and study full time for January exams. Can't do this another year, people helping only on the night is not useful.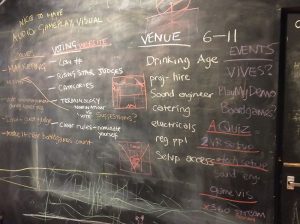 Thank goodness for the tiny few doing the bits they are doing or it would be an actual disaster. But it's just not enough people. There's too much preparation for two or three people to manage it all, and we're all burning out – Claire and Glenn are doing Global Game Jam the weekend before and Kitty is running Games NI stuff so I guess it's true what they say that if you want something done ask a busy person!
---
Dad collapsed on New Years Eve, then seemed mostly fine for a day, until the bloody vomit and diarrhoea started. Seven hours in A&E (we were seen within ten minutes as he was marked Very Urgent, but it still took that long to get a bed) saw him downgraded and then upgraded again when his heart rate plummeted. I stood for the entire time as every single chair in the place was needed for a patient, and they lined the halls. Our NHS needs funds, desperately.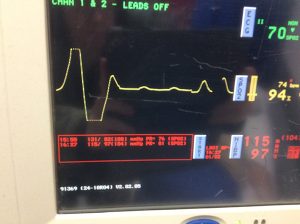 This episode, however, was made 200% worse by mum's Care provider calling me to say they wouldn't be providing the emergency carer's we had requested to get her out of her wheelchair to the toilet and into bed for that night or the next few days. I was told on the phone that the duty social worker had given the response 'Leave it to the Daughter'. I was standing in A&E with my father bleeding internally, losing consciousness, waiting to hear what the tests would say, being told they were going to leave my mother to fend for herself in her chair without any help that night. Apparently the 'Emergency Care' number is only for people who don't have daughters!?! If I had been a man, undoubtedly I would not have been deemed suitable to 'sort her out' and therefore would have been helped? You can bet I argued on the phone right then and there, but to no avail. No help came. Too tired to be livid, tbh.
---
Malware investigations have prompted me to start a January Russian course which has turned out to be really interesting. Really hoping I can keep it up amidst all the craziness!
---
February is BelFOSS, it will be nice to get out and go to a proper event and see actual people! It is a great night out with good friends! Yay!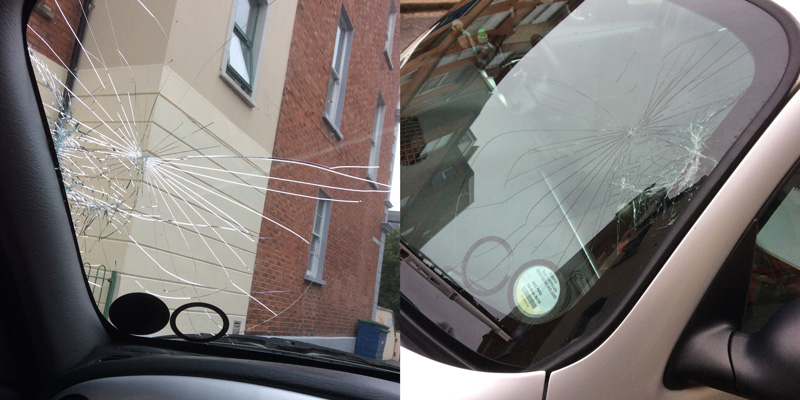 But when I come back in the morning for my car it is smashed 🙁  It isn't safe to drive, and there is no replacement windshield until well into the next week. Direct Line don't care about you enough to provide a courtesy car when it's 'only the windshield' no matter how many years you've been with them.
---
Am trying to get to security events still, and go to the graduate jobs events, but it's taking up a lot of time. The big employers really give you the run around – been hanging around rearranging and being stood-up for hour-long phonecalls for six+ weeks with one now, only to hear they wanted more certs. Just say that at the start?
Ex-husband has just dropped the bombshell that he's going bankrupt so I have until May to sell the house for market value or they will do it instead. OMG. Have tried to ask him to wait until Sept and I will get a new tenant and pay his half of the mortgage (when I get a job), but he flat refuses. He won't even help arrange any of it. And it's in Nottingham. And I'm not.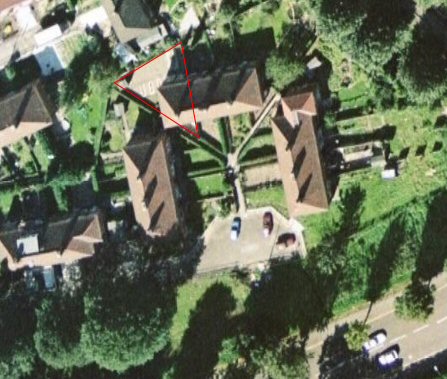 Nottingham house buyer wants it fully cleared. Has requested another viewing four times to review and complain that more things need removed/cleaned, despite me continuing to say I am not in the country and we are selling 'as is'. We need this sale, though. Have had to take a loan to make mortgage payments and hire removal company until sale goes through, as the tenant has left things in the house.
Cryptography is ridiculous amount to  learn in the time – not humanly possible! Again working hours and hours extra every night to compensate. Learning all of this for the exam without supervision/correction will be very hard. The decision to change this from year-long-classes to 'intensively-taught-in-a-week' is nutso.
---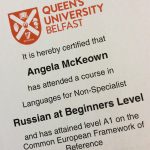 Have somehow made it to April, and Ami is coming home from Strathclyde. I have to brush off a project meeting to go and help her move home, but she is all alone and needs help, and is more important! The Easter business rush co-inciding with Cryptopgraphy coursework and the Literature Review is not helping either. Barely keeping on top of things. How is all this academic stuff scheduled to overlap, with exams approaching too??? Have booked the bus, as flights are ridiculous money when you add bags.
Russian went well, though!
I tried to get to Women TechMakers in time to see more talks, but there was too much work on so I arrived quite late. The After Party was good at least!
---
The cat has died. I am distraught. He was my rock. I know that he was an enormous amount of extra stress also, but he was the little dude I came home to that kept me company and kept me going and feeling that everything was okay and that there were still good things in the world. I feel utterly lost.
---
Have started Bangor Tech Brunch (it is May). The Belfast slack brunch is so useful, and there are so  many tech people in Bangor. It just seems obvious? Might take a while to come together though. Just need to keep showing up.
---
Have agreed to talk to QUB Enterprise SU students about Entrepreneurship straight after an exam. May be overdoing it.
Dobbies garden centre have randomly emailed asking if we'd be interested in supplying them. I'm not sure how to respond at this time. I invite them to open a trade account so they can peruse the online site, but wonder how to even cope if they order.
Got a clusterheadache on the day of Software Assurance exam. Have been having them on and off all year of course (I have one a couple times a month). Doctors letter has not arrived after 7 weeks of phoning the surgery twice a week (it's tiny and they lost the main doc and only have a locum), so QUB have refused my exceptional circusmtances and capped the module at 50%. Except for this cap I otherwise had the grades for a distinction 🙁 Oh well. Literally too tired to fight any more.
---
June – Attended the Graduate Art/Animation Showcase at UU, which is always awesome, and always a good source of new talent for games and product art. Great to see many students producing games. Surprised there aren't more people from the Game Dev Network here, but good to see the Derry contingent and good to finally meet Courtney in person, showing her work. She's amazing!
Room MC at NI Dev Conference as there was no way I could get it together enough this year to be a speaker. I would love to do more talks, I have a lot of things I would like to teach people about, but there's only so much headspace and time. Genuinely great day, it's so good to speak to so many enthusiastic people who only want to talk about tech things!
Have somehow won a ticket to DigitalDNA, and agreed to chat to Seamus from PwC anyway, so am going to go make the most of the event there.
Have tried an #AlexaDevDay to help me make the Alexa app idea we came up with at Bangor Tech Brunch. It was genuinely great and I walked away with an almost working app. It will be good to spend more time on once I finish my dissertation. Neeeed a new laptop so badly, though. I have avoided so many hackathons this year and last because my laptop just doesn't really work anymore, and risking this dev day was only confirmation that I shouldn't go to any. All the free training in the world is no use if you can't afford the hardware 🙁
---
House has sold. Have now paid off mortgage and existing loan with ex! Phew! Still think it would have been much cleverer to keep the house though. FFS.
In the meantime, my IoT dissertation project has gone sideways, as the servers have been taken offline, and the app doesn't function at all without them, rendering the device completely dead. Kinda tough to do much analysis then. Unsure how to rescue this. Supervisor has given me webcams instead. Would be fair to characterise mental state as having moved from excitement to something close to pit of despair. It was such a neat and tidy little project, and now I can't work out how to rescue it. It is nearly August. Not much time left.
---
More dehumanising interviews… I am not a number 🙁 Realising that although the MSc is good, employers still want certs. One interviewer doesn't ask me any technical or security questions, tells me they haven't seen my CV – then I don't get the job apparently because I was 'not technical enough'.
Aims is in a state over her new Belfast house rental as the other tenants parents have moved in! WTAF? Drama, them walking into her room on her, moving her stuff around, and urgent phonecalls to the landlord ensue.
Have ordered two more connected toy devices for project, but still feeling aimless. How is there time to analyse them in the remaining timeframe? How can I reframe the project when they are not BLE? Do I just throw out my prior learning? How can I recover any of this? Everything is falling in on itself. I spend the wee hours aimlessly taking pcaps from Andoid phones and checking advertising packets, hoping the methodology I drew up when I was still feeling with it is enough to carry me through.
---
October.
Those moments when you laugh at how bad you thought things were before?
Those.
Aim's dad is suddenly in hospital with three weeks to live. She is understandably devastated. We were together for nine years, but it was a long time ago. I just feel confused. Mostly I'm there just to help talk to her about it at 3am when she can't sleep.
I've had to leave for an interview in Portsmouth for a Forensics job. It's not great timing. I spend the night before studying forensic field and lab methodologies as we didn't do any evidence acquisition on our course. There are no Forensics roles in NI for juniors, and no reimbursements or remote interviews when it's police jobs. Interviews are costing a fortune. Two existing forensics officers got the posts, but the manager phoned to say she was really impressed with my technical ability and I was on the reserve list so wouldn't need to reinterview if another role came up. Security vetting takes months, though. I need money before then.
The disseratation is just a thing that sits on a hard drive somewhere out of the way that I sometimes open to rearrange some bullet points in and add citations. Eventually the sad inevitable happens, there is a funeral, and I apply for an extension, but it doesn't help things much. I spend the final couple of weeks writing numbly, checking and double checking, hoping it all makes some kind of sense somehow.
By the time the Viva rolls around, (the Viva I was excited about, because I am a confident person who enjoys presenting and sharing information, and who started out with an exciting project) I am so tired and so numb with life that I feel almost detached from my own body. I watch over my own shoulder as I do a bad job of explaining the point of my own project, because my final conclusions have left me no longer convinced of the point myself, and present my examination progress, but fumble the findings, and do a bad job of conveying how much I actually know technically…
I know technical things. Soooo many things about the BLE stack, and the internals and quirks of the Android filesystem and it's weird versioning, and the leaky, insecure apps these toys have, and ADB and Smali things… and I have opinions about how Bleichenbacher flaws are much less important here than open pairing if you're a parent, and, and… the words are getting jumbled up in my head with tiredness and dead cats and new forensic methodologies and stressed teenagers and conversations about death. I tumble in and through and out into the world again, and wonder if one day I will remember how to breathe.
I've arranged to have lunch afterwards with my daughter, and check how she's doing in her new house (we got the parents removed), and how she's settling in with her new course in Belfast, closer to home, and I'm just glad I made it this far already. Time can be relied on to move forward, if you just hold on to something.
It was nowhere near the fantastic project and report and Viva that I was excited to work on at the beginning. But given the circumstances, I feel, just maybe, I did alright to get this far.
---
November Update:
I found out on the 15 Nov that I passed! w00t! Yay! Mid-life crisis project success!
Unfortunately on the way home from the International Airport that evening I was in a head-on collision with another car which swerved unexpectedly into my lane from the opposite lane… Cheers 2018!
A kind stranger called the police, and the paramedics arrived in about 20 minutes. The ambulance took about an hour and a half to arrive, and then the fire brigade had to cut me out of the car. I spent the next four hours or so strapped to a board in Antrim hospital while they did a dozen x-rays and a CT scan, but apparently I am made of rubber and luckily nothing was broken, though I had cuts, bruises and airbag abrasions, and a ton of pain in my knee and foot and neck. And nose, which makes a bit of a crunchy sound now. You can't see from the photo, but the brake pedal is twisted on the inside from how hard my foot pushed against it in the impact, and my foot is pretty badly sprained and kinda purple. My other knee also hit the steering column and is also a lovely shade of trendy colours and rather larger than its counterpart. I also spent a week blowing giant globs of blood out of my nose and having nosebleeds, oh, and not being able to look to my left without turning my entire body. And yes, as my face hit the airbag I did wonder if this was how I was going to die.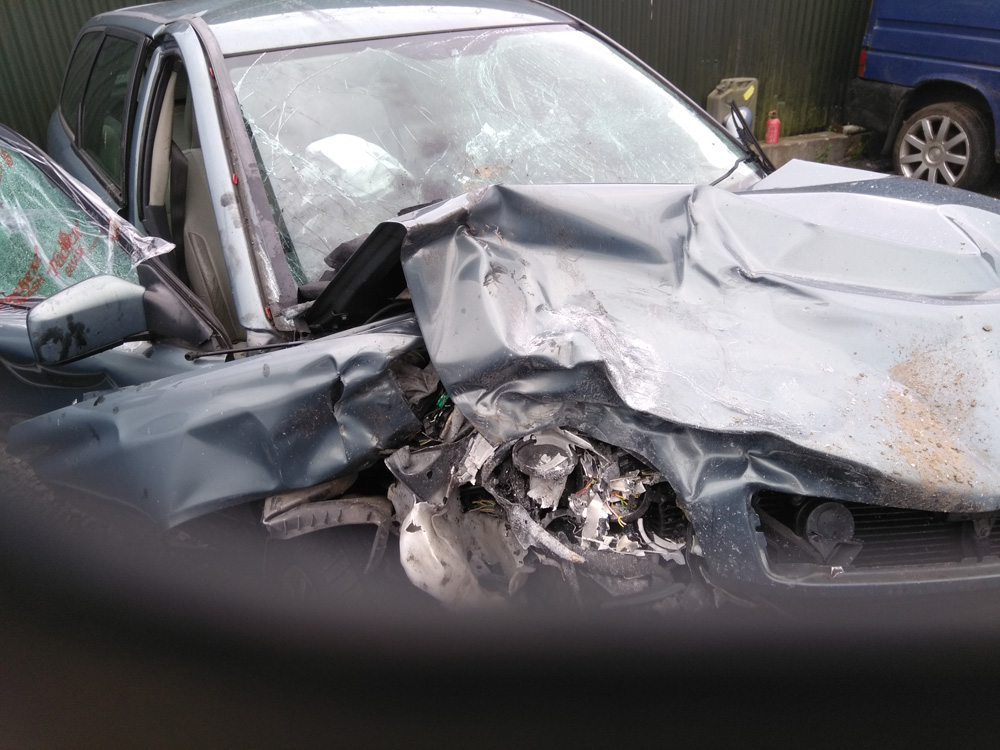 As I had just nipped out to leave my daughter to the airport, my brother was on holiday, my dad's car was totalled, and most of my friends don't drive, I was also stuck alone in Antrim hospital, wondering how I was going to make it to Bangor. But I got home eventually, thanks to a very kind friend who took some time out of work the next day. I am now hobbling around with a face for radio, hopped up on painkillers and diazepam.
AND I AM GRADUATING.
ALIVE!
Probably.
There's still two weeks to go… clearly anything could happen. But 2018 hasn't stopped me yet, and it's not for lack of trying. Watch this space!
---
December update: We made it!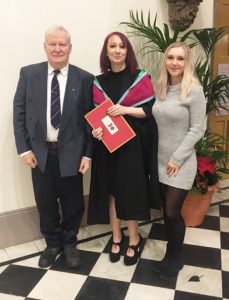 ---
* This is a PCDL loan, which you can't get if you've taken the Student Finance loan of £5500. I took this because the Masters is £12600 this year, roughly double what it was the year before (though I don't think the content changed). PCDL loans go into repayment immediately. NI is also the only place in the UK which does not award maintenance grants for Masters level degrees. Even ROI citizens can get a maintenance grant to do a Masters in the North. This puts our citizens at a huge disavantage and, if it continues, will mean only already wealthy NI people can access top-tier education here, reducing NI's competitiveness with the rest of the UK and Ireland.
** describing someone as 'a brick' is a traditional turn of phrase meaning a helpful or supportive person, esp during a difficult situation. Enid Blyton used it a lot in her writing.
P.S. For those who've emailed to tell me about the new QUB policy of allowing self-cert for things like headaches on exam days, I tried already. They are having none of it: